March 18, 2014 on 8:41 pm | In
Uncategorized
|
No Comments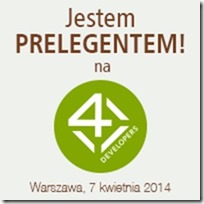 I will be speaking at the 2014 4Developers conference in Warsaw, Poland. In a matter of fact I have not one session but two! Tja, it's actually THE one. But divided into two parts. Nevertheless a great deal of .NET continuous integration goodness comes into your direction. Watch out! For details see the conference website (Polish only). 4Developers conference .NET Track. April 4th 2014 at the Gromada Hotel Airport in Warsaw. Don't miss it!
March 11, 2014 on 12:41 pm | In
Software Engineering
|
1 Comment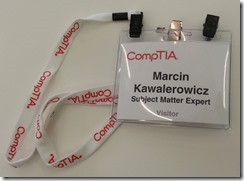 I'm very proud to be a Subject Matter Expert at CompTIA in Chcicago, USA. I was invited to participate in a Software Engineering and Networking for Programmers workshops in their headquarters at Downers Grove (west Chicago suburbs). The first day of Software Engineering workshop went by and was quite intensive. I'm working in a small international (Canada and USA) group of professionals from institutions like IBM or Illinois State University. We are creating and asserting items for a new set of certifications that CompTIA is developing. We are basically writing the questions for the exams the candidates will have to pass to get the certification. It's quite intensive but it is a lot of fun with interesting people. I'm very glad that I was chosen to be Subject Matter Expert (SME) by CompTIA.
Powered by WordPress with Pool theme design by Borja Fernandez.
Text © Marcin Kawalerowicz. Hosting CODEFUSION.