Certificate of Basic BPMN Competence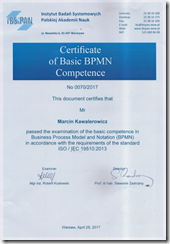 On April 28th 2017 I've passed the Polish state examination of the basic competence in Business Process Model and Noatation (BPMN). The exam is carried out by the System Research Institute at the Polish Academy of Sciences. It is an exam in accordance with the requirements of the standard ISO / IEC 19510:2013.
The scope of the certificate contains:
1. Basic terms of business processes
Process and sub-process
Process goal and purpose of process modeling
Map of processes
Process model
Process vs. procedure
Process measures
Participant (business role, position)
2. Basic terms related to process modeling in BPMN notation
Objects in process diagrams

Pools and lanes
Flow objects
Connecting objects
Data
Artifacts

Proper and improper diagrams

Sequence flow and message flow
Representation of participants and business roles
Forking and joining of sequence flow
Exception flow
3. Individual skill in process modeling
Developing a BPMN diagram on the basis of tabular or narrative description
My certificate number is 0070/2017 and can be looked up at the System Research Institute web page.