October 26, 2008 on 8:18 pm | In
Uncategorized
|
No Comments
I had an interesting dispute with my colleague weather to use only qualified type names in code or not. He insisted that we should not use the using directive to introduce a namespace but to write the fully qualified name every time it is necessary. I had quite opposite opinion but I agreed to give it a try. So I started to write
public class 

MyClass
{
    

public static void 

Main()
    {
        System.Console.WriteLine(

"Foo"

);
    }
}

instead of
using 

System;


public class 

MyClass
{
    

public static void 

Main()
    {
        Console.WriteLine(

"Foo"

);
    }
}
Unfortunately over time it proofed no value to me. I was not happy with this rule, but I thought I'll consult the brother audience for opinion before I start a holly war against something that I might not fully understand.
I decided to give stackoverflow.com a try. It is quite new Q&A Service dedicated specially for software developers. I write my question I was given a flood of answers. Some better, some worse. Some hitting the bottom line, some pouring "divine knowledge" of individuals that think they know things better.
Nevertheless the discussion on stackoverflow.com helped my back my opinion. Give it a try!
October 12, 2008 on 10:28 pm | In
Uncategorized
|
No Comments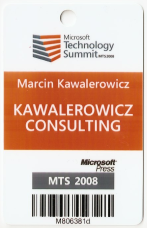 Microsoft Technology Summit 2008 (8th and 9th November), the biggest  Microsoft technology event in Poland went quite well. It was my first MTS and I was trying not to expect anything special. And indeed I haven't experienced anything  earth shaking but altogether it was quite interesting and a good investment of time. I surely learned a few new things and meet interesting people there. I was astonished by the sheer number of attendees that gathered in there. I presume the old communist "castle" in the center of Warsaw the "Palace of Culture and Science" was the only place to accommodate this whole crowd, but it is not a cushy place. It's big and cold and far from perfect to host a technology event like that. And well… despite the overwhelming size of this place, you almost have to eat you lunch on the floor, because there was no eno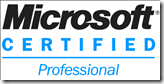 ugh tables

But I passed the 70-543 Exam there and gained the Microsoft Certified Professional Developer in ASP.NET title. So altogether it was a full success!
Powered by WordPress with Pool theme design by Borja Fernandez.
Text © Marcin Kawalerowicz. Hosting CODEFUSION.