October 19, 2009 on 7:52 am | In
Books
,
Continuous Integration
|
3 Comments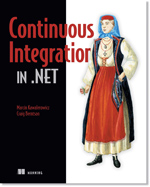 The Continuous Integration in .NET book is available as an early access edition from MEAP. For those of you that are not familiar with MEAP it stands for Manning Early Access Program and it is the place where you can download a free chapter and buy the whole book printed or as an ebook before it gets published. You will get continuously chapter after chapter successively as they will be written.
August 14, 2009 on 9:39 pm | In
Books
,
Continuous Integration
|
3 Comments

I'm going to write a book about Continuous Integration in .NET for the Manning Publications. I'm sure I don't have to tell you how exited am I. I will join the noble team of Manning authors like John Skeet, Ayende Rahien or Roy Osherove. I'll keep you posted about the progress. In the mean time let me give you some history.
I've once written an article for Software Developers Journal about Continuous Integration in .NET. It was very well received. I always thought I have a lot more to say in this topic. The idea to write a book came while speaking with my good friend hsd (well I have more and more to thank you for

. I've tried to propose the book to a polish publisher Helion. Very fortunately for me they said there is not enough place on the polish marketplace to get enough sell (I've blogged about this in polish). I presume they know better. I've already buried the idea about the book when I saw the ASP.NET MVC 1.0 Quickly book from Packt Publication. It was written by a guy from Belgium (Maarten Balliauw). I've read his blog and I realized has not native English speaker. "If he can, why not to try myself?" I thought and written a short proposal for Packt. They were interested! I've worked on the proposal with the Acquisition Editor and I've shortly after that I've got the information that the book was "committed". I was very, very happy until something went wrong at Packt (the went scared by a download stats of one of the tools I wanted to write about). The book was "uncommitted" and we didn't sign the agreement. I don't throw my hands up! I thought if they are interested probably someone else will be too. I've send view more proposals to other publishers and the Manning appeared. In the mean time Packt turned to be after all interested in me writing the book. The Acquisition Editor at Packt Publishing was a great guy. I'm sure it would be great to write a book for them but it was to late. Manning found me a co-writer Craig Berntson. Someone that speaks English a lot better than I and has a know how in continuous integration. The way the Manning deals with his authors seems very provisional and I've very glad to get this opportunity.
So be aware. The best Continuous Integration in .NET book comes sooner than you expected!
July 31, 2007 on 11:20 pm | In
Books
|
1 Comment
Is it possible to by a good software developer and not to read books? Probably, but I think only if you are true genius! Otherwise you are lost in modern tech world if you are not keeping track. Sure you can read blogs, but nothing is better than good technical book from time to time. I love to read good books. Earlier I was a true bookworm. Now I have less and less time, but I still like to take I while to lay back and read. Interestingly enough more and more of my bookshelf is taken by technical books.
I'll tray to review from time to time an interesting tech book for you. I would like to begin with a book that is especially close to my heard. I don't know weather it is because the author is Polish or because I found inside the best description of how to get from transistor to a logical gate ever written! The book is called Silence on the Wire: A Field Guide to Passive Reconnaissance and Indirect Attacks and the author is Michal (or better Michał) Zalewski. The book was originally written in English but I've seen some translations too (Polish and German). It is not a book strictly aimed on software developer, but it is surreally one that every software developer that works with Internet (so every software developers

should read. It is more a set of essays reaching from the lowest level like generating random numbers through TCP stack to web client identification. In no means is the book a dray academical paper! It is build on authors experiments on a living system. That makes this book special. It dims the minor drawbacks like "uncohesivnes" in book structure (it is more a set of lose papers than a solid book that you have to read from cover to cover). Have a nice reading!
Powered by WordPress with Pool theme design by Borja Fernandez.
Text © Marcin Kawalerowicz. Hosting CODEFUSION.