How to use Wireshark to get IP camera RTSP URL
I have bought a simple IP camera. Manta SRV201HD. Nice, small, with a decent built and superb cost-effectiveness. Manual describes the configuration over an Androind/iOS app. I've tired and run away from the store seeing the permissions it needed to install: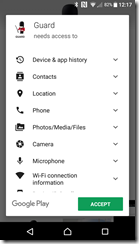 I want the other way around. I've connected to the camera WIFI using my laptop (it spreads a technical wireless network with some cryptic SSID) and went to the web interface (to check the camera IP you will have to go to the router DHCP table or use some WIFI sniffing tool). The configuration was seamless. Enter local WIFI SSID and password and reset.
Now back to my local WIFI. And back to the camera web interface. To see the stream I had to install some OCX component. I did it on some disposable VM because I did not wanted to litter my system (it is enough that the camera is probably calling China to feed the image to the mobile app). It worked perfectly but that was not the way I intended to use it. I needed the stream to embed it for example into my own app. I needed the RTSP URL. RTSP stands for Real Time Streaming Protocol and it is the standard way the IP cameras stream their image. There was not URL in the manual. So I needed to get it from the live stream in the web interface. I have used the Wireshark.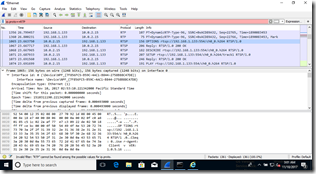 Filter with ip.proto==RTP and scroll around.There should be URL beginning with rtsp:// somewhere in the info column. That's your stream address.
My stream URL for the Manta SRV201HD was rtsp://192.168.1.133:554/ch0_0.h264 together with the authentication credentials it was rtsp://admin:admin@192.168.1.133:554/ch0_0.h264
And it worked perfectly: