January 21, 2010 on 6:11 pm | In
Uncategorized
|
No Comments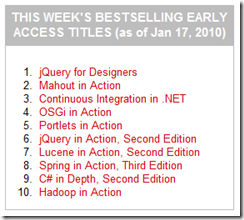 There are two new chapters available at Manning MEAP site. The third one about build process automation (with MSBuild) and the forth one about choosing the right CI server (covering CCNet, TeamCity and TFS 2010).
And wow the book is third on this weeks bestselling early access titles. Juhu!
January 16, 2010 on 7:09 pm | In
Continuous Integration
|
No Comments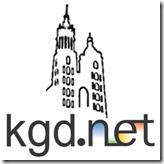 I will be speaking on Wednesday (20.01.2010) in Krakow, Poland at the Karkow .NET Developers Group meeting. The session is about Continuous Integration in .NET. So if you like hear what I have to say about CI meet me at ABB ISDC, Pałac Pugetow, ul. Starowislna 13, Krakow at 18:30. I believe the attendance is free but registration is required. See you in Krakow!
Powered by WordPress with Pool theme design by Borja Fernandez.
Text © Marcin Kawalerowicz. Hosting CODEFUSION.