I will be speaking at CIDC 2015 in Orlando, Florida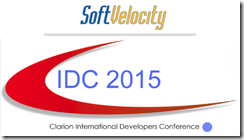 I was invited to give a talk at the CIDC 2015 in Orlando, USA. CIDC is annual Clarion International Developers Conference. I will be speaking about the Microsoft .NET and Clarion integration. The talk is prepared together with the C.I.C. Software GmbH and my company (CODEFUSION). The Clarion part is supervised by Andrzej Skolniak from the C.I.C. We will be giving the speech together. We will be talking about various interoperability solution between .NET and Clarion tried out in one of the projects my company I co-developing with C.I.C. Software. The interoperability solution that is based on unmanaged exports – modified .NET libraries that are accessible form Clarion. The managed methods are not exposed as such. Instead, inverse P/Invoke thunks, automatically created by the common language runtime, are exported. These thunks provide the same marshaling functions as "conventional" P/Invoke thunks, but in the opposite direction. Using this method we were able not only to connect a full blown .NET based BPMN Engine to Clarion but we are able to inject Microsoft WPF based controls to Clarion created windows. With this and a set of callback functions (for .NET to talk back to Clarion – to do the evaluates for example), we built in .NET and C# a production grade extension to Clarion based software.
Join us at the CIDC 2015 between September 30th and October 2nd in Orlando, Florida, USA.